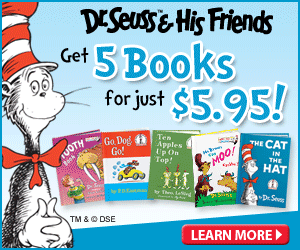 If you have kids and a fan of Dr. Seuss, here is a great deal for you. Get 5 Dr. Seuss Books and a Tote Bag for only $5.95,
FREE shipping
.
Click on the image above
to purchase. This is a limited time offer so hurry and order before it's over.
5 Classic Dr. Seuss Books included are: The Cat in the Hat, Mr. Brown Can Moo, Ten Apples On Top, Go Dog Go! & The Tooth Book.
Dr. Seuss Tote Bag
You can purchase by joining the Dr. Seuss book club but it can be cancelled as soon as you get your items in the mail. To cancel login to your account or call 1-800-353-3140. By cancelling you won't receive any more shipments and will not be required to make any further purchases.