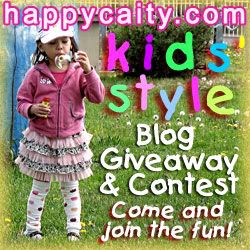 Happy City is excited to announce its first
major
Blog Giveaway and Contest
as a way of welcoming future participants of Kid's Style meme. Over $100 worth of prizes will be given away to the lucky readers. The contest will run from November 22, 2011 until 12:01 am December 20, 2011 EST.
Prizes are :
1st prize = $50 Paypal credits
2nd prize = $30 Paypal credits
3rd prize = $20 Paypal credits
4th prize = 1 month ad space @ The Jagged Barn
5th prize = 1 month ad link @ Ideas n Pink
HOW TO JOIN:
*Participants should have a Paypal account, a blog, Facebook account, Twitter, and GFC to be able to join the contest.
*Participants should blog about the giveaway. The blog post should contain the link to Happycaity.com (http://www.happycaity.com), the contest badge code and the sponsors' links code. For easy posting, the codes for the badge and sponsors' links can be copied below.
Generous Sponsors ar the following:
Rainydazeee
Happy Steps Travel Blog
Pastel Corner
The Wonderlusts
Benedique
Doodles
My Tots Exactly
The Coffee Chic
Nshima Servings
The Jagged Barn
Mommy's Bright Bundles
Essential Tidbits
Ideas n Pink
Click here to join
the contest.